BHH
MULTI-PURPOSE SHREDDERS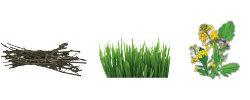 Specialised
Weed / Grass / Vegetation cover

Complete range from 0.90 m to 1.40 m.
BHH grass shredders are specially designed for intensive work on the front of inter-row tractors.
Their 30 cm front opening and heavy rotor give them exceptional output.
The 5 mm body offers unrivalled robustness.
Equipment :
Height-adjustable vine shredder skids and rear roller.
Hydraulic shredder motor with freewheel.
Rotor fitted with hammers (spoon blades, Y blades on request).
Rear anti-projection deflector on the vine shredder to eject vegetation.
2 possible motorizations: 55-70 l/mn or 70-90 l/mn at 190 bars.
– Multi-purpose horizontal shaft shredder
– Robust shredder: 8mm sheet metal
– Anti-projection rear deflector for vegetation ejection
– High-quality 5mm steel body
– Height-adjustable skids and roller
– Front attachment
BSM
VINE SHOOT SHREDDER
Above-ground shredding greatly reduces hammer wear compared with a conventional shredder.
Find out more
BHM
MULTI-PURPOSE SHREDDER
True all-rounders, BHM shredders offer an absorption capacity unequalled on the market.
Find out more
BHMF
MULTI-PURPOSE SHREDDER
A true all-rounder, the BHMF shredder offers an absorption capacity unrivalled on the market.
Find out more
BVA
ORCHARD SHREDDER
The ultimate all-rounder!
The BVA range of shredders has been developed with this in mind.
Find out more
Do you have a question, a doubt or would you like to place an order ?
Please fill in the contact form, specifying the subject of your request, and we'll get back to you as soon as possible with an answer.


+33 (0)5 46 90 88 30



contact@naotec.com



ZI du Chail, 17800 PONS FRANCE