BHMF
MULTI-PURPOSE SHREDDERS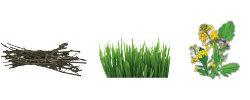 Specialised
Weed / Grass / Vegetation cover

A truly versatile tool, the BHMF shredder offers an absorption capacity unequalled on the market.
Its 300 mm opening gives it a definite advantage when it comes to destroying vine shoots or branches, as well as large-sized plants.
The superior quality of the steel used in its manufacture is an invaluable asset for increased longevity.
Delivered assembled, with its drive shaft and skids, it has been tested in our factory on a test bench, to guarantee you perfect use in all circumstances.
– Robust shredder: 8mm sheet metal
– Large 290mm chute
– Axial or offset rear 3-point linkage
– Height and depth adjustable roller
– Supplied with cardan shaft
– Swivel wheels (optional)
BSM
VINE SHOOT SHREDDER
Above-ground shredding greatly reduces hammer wear compared with a conventional shredder.
Find out more
BHM
MULTI-PURPOSE SHREDDER
True all-rounders, BHM shredders offer an absorption capacity unequalled on the market.
Find out more
BHH
MULTI-PURPOSE SHREDDER
BHH grass mulchers are specially designed for intensive work on the front of inter-row tractors.
Find out more
BVA
ORCHARD SHREDDER
The ultimate all-rounder!
The BVA range of shredders has been developed with this in mind.
Find out more
Do you have a question, a doubt or would you like to place an order ?
Please fill in the contact form, specifying the subject of your request, and we'll get back to you as soon as possible with an answer.


+33 (0)5 46 90 88 30



contact@naotec.com



ZI du Chail, 17800 PONS FRANCE